The Escorts/The Do's & The Don'ts were inducted into the Iowa Rock N Roll Music Association's Hall of Fame in 1997. When the original group, which included Dick & Zelda Sherman (bass guitar and keyboard respectively), Roger Booth (drums and lead vocals), and Dick Burns (lead guitar), started in 1959 nobody knew that they would make Iowa rock music history.
They were one of the first professional bands in Iowa to play Rock N Roll music. They were also the first one in the state to feature a female keyboard player in what was mostly an all-male music business. Zelda joined in 1962.
The Escorts'  first official date was playing in the store window for the grand opening of the Montgomery Wards' store in Washington, Iowa. They didn't stay long in the Wards' window, as The Escorts quickly became Eastern Iowa's #1 touring and recording rock music attraction.
Awards
For ten years straight they won an award from the National Ballroom Operators Association for having a band of neat appearance, providing a wholesome form of entertainment and top quality of danceable music. In 1965 and 1966 they won awards for being Iowa's Best Dressed Band. They appeared with such groups as Sam The Sham & The Pharaohs, The Four Seasons, Tommy James & The Shondells, The Everly Brothers, Dickey Lee, and Gary Lewis & The Playboys.
Original Rock N Roll Records
In all, The Escorts later known as The Do's & The Don'ts  released twelve records during their career, the most by any Iowa rock and roll band during the 50's, 60's, and 70's. These original recordings are now available on CD or MP3 download at The Escorts/Do's & Don'ts CD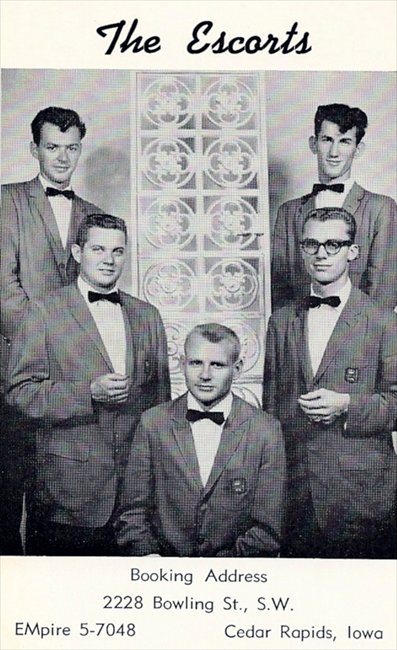 The Escorts started in 1959,
Zelda joined in 1962.
Current Members of the Band
The Do's & The Don'ts continue to perform in Eastern Iowa, playing great 50's & 60's Rock N Roll. See their current schedule. The current band includes two of the original members; Dick Sherman on bass guitar and Zelda Sherman on keyboards. Rick Sherman plays the drums and has been with the band for over 40 years. Kevin Wimer, plays lead guitar. Listen to a live recording made in 2004 at Do's & Don'ts 45 Years Live CD.
Sad note: Roger Booth, the original drummer, lead singer, and writer, passed away in 2010. Dick Burns, the original lead guitar player, passed away in 1984. Larry Smith, who played trumpet and keyboard with the band for many years, passed away in 2001. Frank Glaser who played lead guitar for over 30 years retired in January of 2015. Thank you, we will always remember you for the music you shared with us.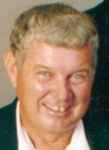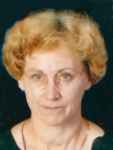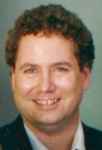 The Do's & Don'ts
Pictured above:
Dick Sherman, Bass Guitar
Zelda Sherman, Electric Piano/Organ/Keyboard
Rick Sherman, Drums
Not pictured, Kevin Wimer, Lead Guitar.
Recent Festivals, Celebrations and Ballroom Dances
Clutier's Bohemian Plum Festival, Clutier, Iowa
Reliving Those Good Ol' Days at the Hi-Way Gardens, Standwood, Iowa
HyVee Music Night, Cedar Rapids, Iowa
Solon American Legion for Solon Beef Days Inside, Solon, Iowa
Keystone Turner Hall's 125 Celebration, Keystone, Iowa
Walker's Prairie Moon Bar and Grill, Prairieburg, Iowa
Coliseum Ballroom, Oelwein, Iowa
Freedom Festival Freedom Bop at NewBo City Market, Cedar Rapids, Iowa
Ellis Rockin' Reunion, Cedar Rapids, Iowa
Hiawatha's Music in the Park, Hiawatha, Iowa
Swisher Fun Days, Swisher,Iowa
Mystique Casino, Dubuque, Iowa
Ponderosa Ballroom, Walford, Iowa
Col Ballroom, Davenport, Iowa
Cruise Night Car Show, Washington, Iowa
El Kahir Shrine Embassy Club, Cedar Rapids, Iowa
Eagles Club, Iowa City, Iowa
Moose Lodge, Cedar Rapids, Iowa
Best Western Holiday Lodge, Clear Lake, Iowa
Lakeside Ballroom, Guttenberg, Iowa
Centerville Fire Department Car Show, Centerville, Iowa
Van Horne Music Festival, Van Horne, Iowa
Kalona Days, 130th Anniversary, Kalona, Iowa
Wheatland Sesquicentennial Celebration, Wheatland, Iowa
Friday'loo, Lincoln Park, Waterloo, Iowa
Vining Quasquicentennial Celebration, Vining, Iowa
Opened for The Turtles, Crowne Plaza Hotel, Cedar Rapids, Iowa
Livermore Daze Quasquicentennial festival, Livermore, Iowa
Hog Wild Days, Hiawatha, Iowa
New Year's Eve Extravaganza 2004, Zazza's Clarion Hotel, Cedar Rapids, Iowa
Lincoln Highways Days, Clarence, Iowa
Old Settler's Days, Salem, Iowa
Sauerkraut Days, Blairstown, Iowa
Festival of Trails Celebration, La Porte City, Iowa
St. Jude's Sweet Corn Festival, Cedar Rapids, Iowa
St. Joe's Fun Days, Marion, Iowa
1998 Iowa Rock N Roll Music Association's Hall of Fame Concert & Tour

Dance Mor Ballroom, Swisher, Iowa
Val Air Ballroom, Des Moines, Iowa
Laramar Ballroom, Fort Dodge, Iowa

Summer Dance Party, Electric Park Ballroom, Waterloo, Iowa
(helped raise $5000 for the Iowa Rock N Roll Music Association)
1997 Iowa Rock N Roll Music Association's Hall of Fame Induction Ceremony, The Roof Garden, Arnolds Park, Iowa