Remember Dancing to Live Rock 'n' Roll
Music with Your Sweetheart?
Author: Rick Sherman at Google+
Clarence, IA -- July 30, 2004 -- Come dance with your sweetheart at the Lincoln Highways Days, street dance, Clarence, Iowa on Saturday, July 30, from 8:00-12:00. If you danced to live rock 'n' roll music in Iowa while growing up during the 60s then you probably danced to The Escorts, later known as, The Do's & Don'ts. Come and relive some of those great memories and create some new ones.
Remember dancing to live rock 'n' roll at the Danceland Ballroom in Cedar Rapids, the Armar Ballroom in Marion, the Prairie Moon Ballroom in Prairieburg, the Dance Mor Ballroom in Swisher, or the Electric Park Ballroom in Waterloo? Or maybe some of the following: the Coliseum Ballroom in Oelwein, Hi-Way Gardens in Stanwood, the Col Ballroom in Davenport, the Val Air Ballroom in Des Moines, the Laramar Ballroom in Ft. Dodge, the Lakeside Ballroom in Guttenberg, the Ponderosa Ballroom in Walford, the Roof Garden Ballroom in Arnolds Park, and Matter's Ballroom in Decorah. The Do's & Don'ts appeared at all the aforementioned ballrooms during the 50s, 60s, and 70s. "We love seeing people dance to the music they grew up on, meeting up with old friends, and making new ones." says Rick Sherman, drummer, webmaster, and son of , bass guitar and Zelda Sherman, piano/organ/keyboard. "We have the greatest fans; they just keep coming out to dance everytime we play."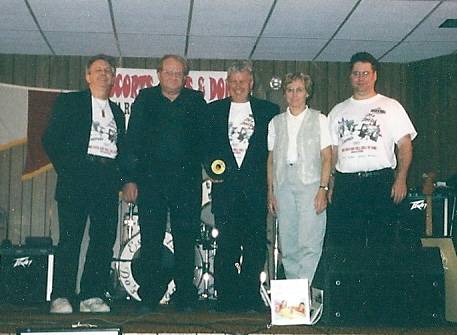 Photo: The Do's & Don'ts band at the Legion Hall in Belle Plaine, Iowa, November 2004
The Escorts / The Do's & Don'ts will take you back to the 50s, 60s, and 70s rock 'n' roll oldies that you and your sweetheart remember dancing to. Come out and dance again, and be sure to tell us about some of your memories.