The article, Rockin' New Year's Eve by Diana Nollen, was printed in the Hoopla section of The Gazette, Cedar Rapids, Iowa, on December 23, 2010. It features the current members of The Do's and The Don'ts, a Rock 'n' Roll band from the Eastern Iowa area. This article has been reproduced in it's entirety with written permission granted by the Gazette features and Hoopla editor. Reprinted with permission (c) 2011 SourceMedia Group.

The Gazette Hoopla (Cedar Rapids-Iowa City)
December 23, 2010
Rockin' New Year's Eve
Author: Diana Nollen
Editor: Carly Weber


When it comes to ROCKING NEW YEAR'S EVE, The Do's & The Don'ts do it way more often than they don't.

Original member Dick Sherman, 71, of rural Ely, thinks the band may have had the big night off once since 1959. That's a whole lotta countdowns and confetti, champagne and kisses.

He says this year's Dec. 31 dance most likely will start with "Shake, Rattle and Roll," followed by "Don't be Cruel" and "Johnny B. Goode."

Those weren't oldies when the Eastern Iowa band debuted as The Escorts in 1959, before a record label renamed them in 1966.

"We started playing rock 'n' roll of that time, but there wasn't much of it," Sherman says. "We were kind of pioneers."

Those trailblazing efforts landed the band in the first Iowa Rock 'n' Roll Music Association Hall of Fame, back in 1997. Sherman proudly points out that his wife, Zelda, who has played keyboards for the band since 1962, is the first woman to join those venerable ranks.

Performing with his parents in the Hall of Fame show was a special thrill for son Rick Sherman, now 50 and living in North English. He has been the band's drummer since age 16.

"Mom and Dad have always been such great role models to me and the rest of the kids," he says. "To be able to keep this band going for 50 years, they're an inspiration."

Guitarist Frank Glaser of Hiawatha joined the band about the same time Rick did, so the core foursome has been playing together more than 30 years. Two of the original members, however, have died — guitarist Dick Burns in 1984 and drummer, lead singer and writer Roger Booth this past Sept. 29.

Other musicians have added trumpet and saxophone sounds.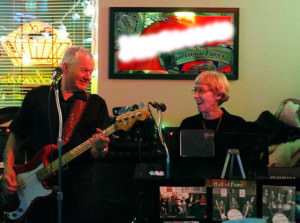 Original band members, husband and wife Dick and Zelda Sherman, share a moment during a song while playing a show, Saturday December 11, 2010 at Gilligan's, 912 First Ave. NW, in Cedar Rapids. (Becky Malewitz/The Gazette)
The Shermans have seen many changes over the years, as dance halls have come and gone, but they've maintained a loyal fan base.
Of course, those early fans were kids bopping to a brand-new groove.
The band was hot, with a single — "I Wonder if She Loves Me" — that climbed the charts in 1966 and appearances with Sam The Sham & The Pharaohs, The Four Seasons, Tommy James & The Shondells, The Everly Brothers and other top acts.
"We played a lot of high school proms and weddings," Dick says. "A lot of those people are hiring us now for their 50th class reunions and 50th wedding anniversaries."
He looks forward to seeing them on the dance floor New Year's Eve.
"These people dance all night," he says. "I don't know how they do it."
— DIANA NOLLEN
LISTEN UP
When: 8 p.m. Dec. 31 to 12:30 a.m. Jan. 1
Where: El Kahir Shrine Embassy Club, 1400 Blairs Ferry Rd. NE, Cedar Rapids
Cost: $20, includes hats, horns, champagne and breakfast; public welcome, reservations required at (319) 395-0109
This article was reprinted with permission (c) 2011 SourceMedia Group and The Gazette Hoopla, Cedar Rapids, Iowa. The content of The Gazette, Cedar Rapids, Iowa, is protected by federal copyright laws and may not be reprinted without written permission.