Sat, Sep 21, 5:00PM-8:00PM


Baxa's Sutliff Store And Tavern

5546 130th Street NE
Sutliff, IA

Sun, Sep 22, 3:00PM-6:00PM


Sunday Funday
The Office Lounge

105 W 1st ST
Monticello, IA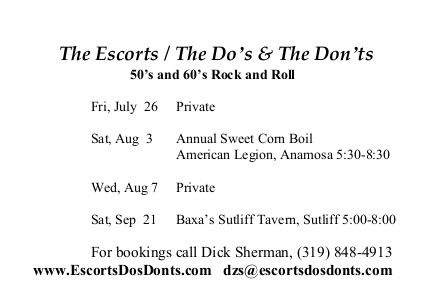 Note: This is not a complete schedule of all current bookings, but only the dates that are in the immediate future. For more detailed booking information, or to book the band for your upcoming event, contact Dick Sherman at (319) 848-4913 or use our booking inquiry form. For cover charge information please contact the venue.